Journal No. 38, 2020 Out Now!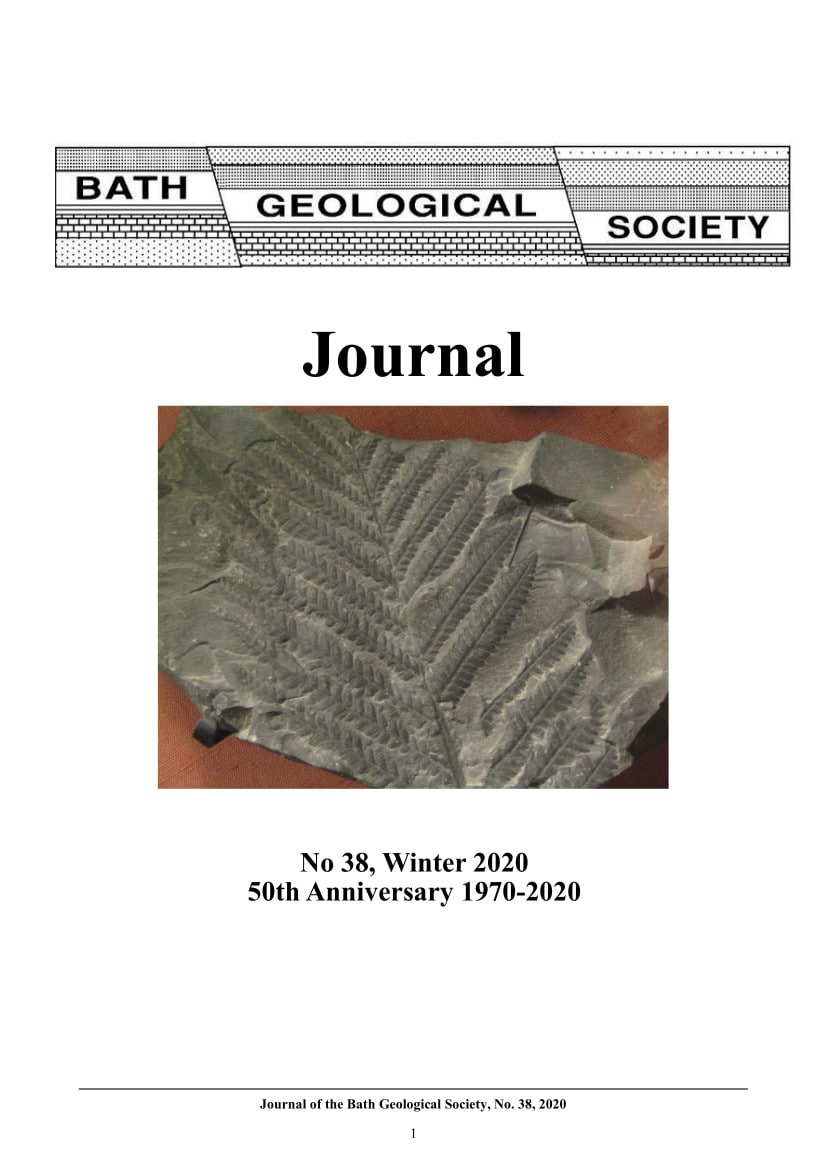 Get Access
Contents
Chairman's Report for the Bath Geological Society, 2019/20

Pg. 4

Arbroath to Auchmithie – Old Red Sandstone Extravaganza

Pg. 5




Charles Hiscock

Footprints, lake sediments and replaced evaporites from the Triassic of South Wales: fieldtrip 23 April 2016

Pg. 10




Maurice Tucker

Why is there flint in Islay

Pg. 12




Isabel Buckingham

Crossword

Pg. 16

Reminiscences – Bath Geological Society

Pg. 17




Elizabeth Devon

Early Fractures in Limestones: an example from Bermuda

Pg. 19




Maurice Tucker

'Blow, blow thou watery wells' (with apologies to W. Shakespeare!)

Pg. 22




Charles Hiscock

Fun with Thin Sections

Pg. 24




Jonathan Slack

Quiz

Pg. 28




Sam Medworth

Dinosaur Snippets

Pg. 29




Phil Burge

Breathing new life into old rocks: The Stonar School Geological Collection

Pg. 31




Simon Carpenter

'Breaking news – meteorite impact causes devastation near South Gloucestershire village'

Pg. 33




Charles Hiscock

Equatorial Rain-Forests in Bath: Fossil Coal-Measure Plants from Twerton—Radstock

Pg. 35




Maurice Tucker

Bath Geological Society 50th Anniversary 1970-2020

Pg. 40




Graham Hickman
---
The Journal of the Bath Geological Society
The Purpose of the Journal is to record the activities of the Bath Geological Society. It may include, but is not limited to the following; Chairman's report for the year, record of the meetings held, list of members including committee, officers of the Society and obituaries. Illustrated articles of geological interest written by members.
The Editor of the Journal will be appointed by the committee and report to the committee on issues and costs relating to the production of the journal.
The Editor has the final say on inclusion of articles in the journal, their inclusion in part or whole. The Editor can request help from members of the Society or elsewhere in proof reading, verifying or correcting articles.
The Journal does not claim to be a peer-reviewed scientific journal and does not follow rigorous formats for articles. The Editor decides on the level of references or citations listed which may be useful to members wishing to dig deeper after reading an article.
Submissions are preferred as a Microsoft Word document, illustrations as separate files. All articles to be in final form with title and corresponding author clearly stated.
The Bath Geological Society Journal is published annually and distributed to the members as part of the membership subscription. Since 2019 the Journal has been published in a digital format as a PDF file and distributed only to members of the society. A hard copy, printed version will be made available only to those members unable to access it online.
At the discretion of the Editor and after two years have elapsed, articles from the journal may be added to the online archive available to the public and searchable from our website.