The Winning and Working of Fullers Earth
Bath Geological Society Journal, Volume 1, 1981, Pages 5-6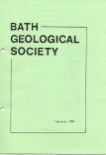 ---
At Combe Hay the local Fullers Earth is mined from workings 18 to 25 metres below the surface, a thin limestone band just below the Great Oolite making a good roof. The old wooden pit props have been replaced by hdraulic props and the adits are supported by steel arches, which enables more clay to be recovered. After mining the raw wet earth it is crushed, then dried to lower the moisture content and then milled to various grades of size according to its ultimate use.
The occurrence of the Fullers Earth is lenticular, and here in Bath there are good reserves to the south-west of the present site. Compared with other deposits, vez: Redhill, there is much calcite present which has to be controlled.
This deposit of Fullers Earth was found and worked by the Romans and used for cleaning, especially cloth, and the mine has been in almost constant use ever since. The mineral montmorillonite in the clay gives it the special property of disintegrating in solution when it will absorb impurities. So today its uses are many - oil refining, binding foundry, moulding sand, a carrier for pesticides, pharmaceutical preparations, cattle feeds and in granular form as cat litter.
Since the lecture, the owners, Laporte Industries, have closed the mine to concentrate production at the Redhill works.
---
References